Just happened to go for a Harley ride today and I knew that Bill Shepherd would be pouring mud on Monday. So, I swung by to get a shot of the steel work and progress of the unloading area.
Boy, was I impressed!! Bill had Ole Olson do a little tractor work to speed up the grading and to throw the dirt back where the yard tracks will be. The yard will be four foot eight inches above the concrete pad as to keep the yard level and to keep things from rolling into the hoist area. A retaining wall will be on two sides of the hoist with a three foot wide apron around the hoist for access. There will be a step on each side of the hoist for access to the yard while unloading.
Concrete will be poured Monday and block work will start on Tuesday or Wednesday. By Thanksgiving we can fill the cells and even start erection of the hoist but will probably wait on that. We have yet to trench the electrical to the power pole by the ash pit. I'm sure we will start grading and compaction of the yard tracks during the Turkey Weekend, but need to wait to get too close to the new wall.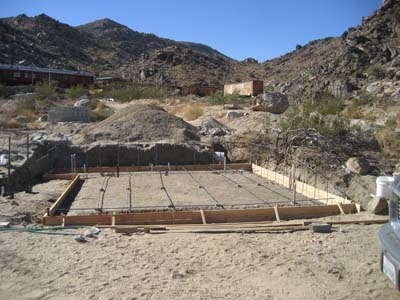 It's looking good and I thought you would all be interested in what Bill has gotten done to date. Thank you all for your generous donations to date as well and there is always room for more checks in the bank account for the completion of the infrastructure around here. The donation of the concrete block sure helped out as you will soon see.
Thanks to all again Brian